A group of hard-working student organizers brought a spirited gathering, once halted by the pandemic, back to its full, in-person glory.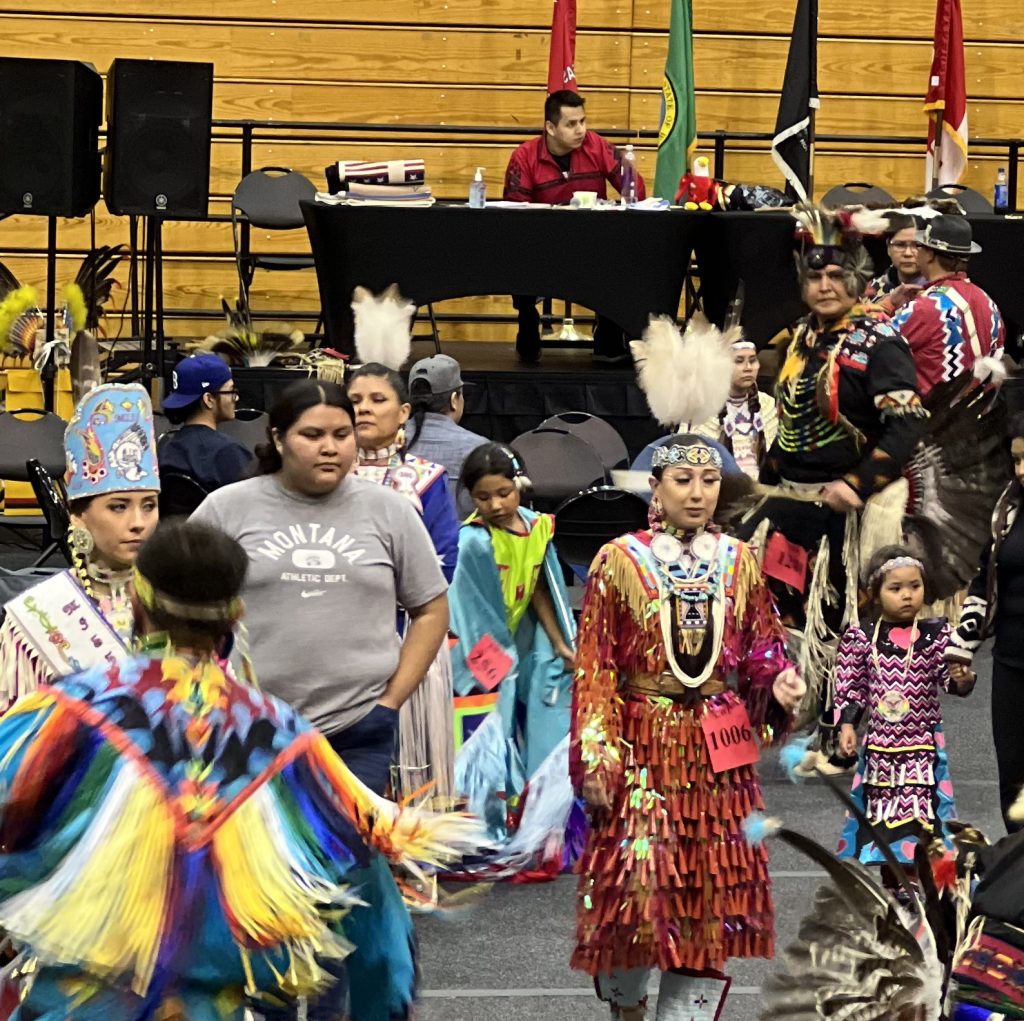 The Spirit of the Eagle Powwow, held on June 4, attracted hundreds of children and adults who welcomed the return of this cherished cultural celebration.
"Everyone enjoyed it, especially the little ones," said Laughing Eyes (Daniel Mansulla), a 22-year-old exercise science major from Taos Pueblo, New Mexico.
Laughing Eyes, who is a citizen of the Pueblo Tribe, was among a team of student organizers from the Native American Student Association (NASA).
Their efforts, which began last fall, culminated in an event that brought joy to the many dancers, drummers, vendors, family members and friends who participated. Together, they shared in – and contributed to – a rich tapestry of songs, dances and storytelling that represented the tribal traditions of Eastern's Native American students and their ancestors.
Erin Ross, Eastern alumna and director of tribal relations for EWU, says she was impressed with the work of the student organizers: "Our NASA students deserve high praise. They ran a full, professional powwow that lifted spirits and warmed hearts."
Ross, a member of the Cowlitz Indian Tribe, enjoyed sharing a meal with students and their relatives, including little ones. "Standing together as a people on the campus of my alma mater is something I will never forget," Ross said.
NASA sponsored the powwow and covered costs to ensure that admission to the family-friendly event was free. In addition, vendors paid a nominal fee to showcase artwork of varying styles.
Specials, a form of competitive recognition, were offered for men, women and children showcasing skills in hand-drumming, fancy dancing and jingle dresses. In addition to displaying beautiful artistry, the jingle dresses — also known as prayer dresses — are believed to bring healing to the sick.
For Laughing Eyes, the Grand Entry Ceremony (where he served as a flag bearer) with the triumphant honor song was the most inspiring. "There were a lot of defining moments throughout the day, but that moment stood out to me," said Laughing Eyes. "It was very sacred and very powerful."