This year on Giving Joy Day—Eastern Washington University's annual day of giving—we are creating upward mobility for students facing a barrier. Giving Joy Day happens each year on EWU's birthday. On Friday, April 2, we are celebrating the university's 139th birthday by spreading joy in our community and helping Eastern students succeed.
Eastern is committed to providing access to an affordable and exceptional education to all, yet many talented and hard-working students are presented with obstacles they cannot overcome. To provide our students with the backing they need to keep flying, Eastern has developed a signature student support plan called Eagle On. On Giving Joy Day, we're asking supporters to please give to the Eagle On fund, or any fund that means the most to you.
About Eagle On
Every Eagle starts their journey with a plan and a goal. But then "life" happens. With your help on Giving Joy Day, we can increase direct aid to students in three targeted areas—keeping Eagles on the path to success.
Eagle Retention Grants
To cover smaller financial shortfalls so students can stay in school and graduate.
Soaring Eagle Scholarships
Awarded to juniors and seniors who also work and show determination to earn a degree.
Experiential Learning Funding
Makes career-boosting opportunities like internships and conferences accessible.
We are stepping up for our students to get them over the goal line and on to a life of success and impact. Please join us! To learn more about the impact your support can make, please read on to hear from EWU students.
Elsa Chávez
Because students' unmet need increases the closer they get to graduation, the Soaring Eagle Scholarship Fund helps juniors and seniors persist and earn a degree. These scholarships are designed for students who are not eligible for Pell Grant funding and are showing "grit" while working their way through college.
Elsa Chávez, a first-generation college student, earned a Soaring Eagle Scholarship. She says without scholarship support she wouldn't be at Eastern.
"More than anything, these scholarships have significantly reduced the financial strain on my family and I," Elsa says. "I have been blessed by the support of scholarship donors and my hope is that more students can continue to accomplish their academic goals here with scholarship help."
Narya Naillon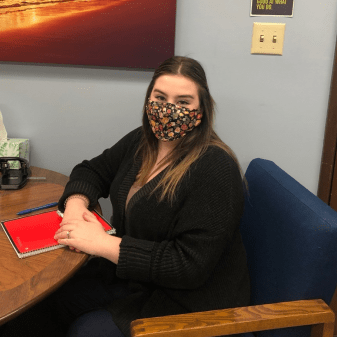 Experiential learning funding supports opportunities like internships, leadership conferences, faculty/student research and other career-focused activities. Living expenses can make these experiences unattainable for some students. Support helps them build professional skills that intersect learning with community connection.
Narya Naillon received an internship stipend to help her cover expenses while she interned in human resource management at Spokane Neighborhood Action Program (SNAP).
"I have had the privilege of getting many opportunities at hands-on experience and I feel that I have learned so much through the tasks and responsibilities I've encountered," Narya says. "I'm so grateful for the funding that allowed me to put my full efforts into my, and SNAP's, development."
Emily Rhodes
As students migrate toward degree completion, their lives become more complex. Modest financial shortfalls can affect a student's ability to pay tuition and fees, which causes them to stop their studies.
With the help of a retention grant, Emily Rhodes was able to secure the small amount of funding she needed to get to the finish line.
"The start of my senior year was a little hard on me financially and I was unable to pay my full balance," she says. "I was fortunate enough to receive a grant which made it possible for me to graduate and pursue my future working with the children in our community who also need a helping hand."
Emily graduated in 2020 with a degree in children's studies. With as little as $200, Eagle Retention Grants provide emergency funding to allow students to stay enrolled.
Zander Holman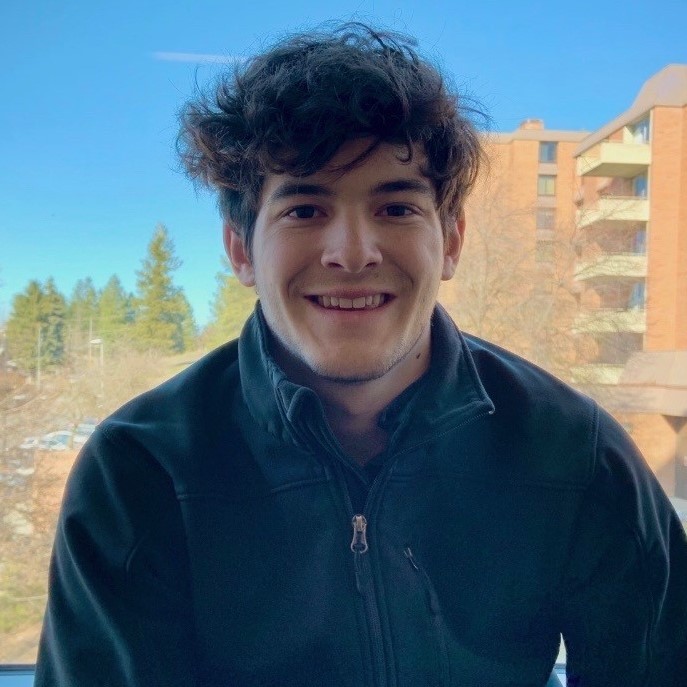 Too often, Eastern students face challenges along their journey toward graduation. Many students work part-time jobs—or even full-time jobs or more than one job. They overcome academic and personal obstacles to secure a better future for themselves and their families.
Zander Holman has been working since he was 14 and completed the Running Start program while he was in high school to get a head start on his college career. Without financial support from his family to help pay tuition and other bills, Zander works multiple jobs. But its still not enough. Fortunately, he received a Soaring Eagle Scholarship last spring, which allows him to focus on his finance classes instead of his personal finances.
"Thank you for supporting my academic path and creating a little bit of stability where it was not, especially in a year where everybody's finances were impacted by Covid," Zander says. "I was incredibly fortunate to be able to receive a scholarship. It definitely helped me progress in my academics."
Alejandra Medrano
The Covid-19 pandemic not only brought new financial struggles for many Eastern students, but it also created a challenge for students seeking hands-on experience in a socially distanced new world. But social work students know that those most in need in our community need assistance now more than ever.
Alejandra Medrano received a Krumble Foundation Internship Stipend, which helped her pay bills while she completed an unpaid internship at Catholic Charities in Spokane. She is thankful for the support, and the life changing experience.
"I have been having a great time getting to know the clients we serve at my agency, whether it be doing commodities deliveries every month or even getting to talk to them on the phone," Alejandra says. "Seeing the change that my agency has on people's life makes me excited for wherever my career may take me after graduation."
Lorren Morgan
When you give to the Eagle On initiative, you help students like Lorren Morgan complete their education and start a career. Lorren earned one of the inaugural Soaring Eagle Scholarships because of his grit and hard work.
Lorren has been pursuing his dream of becoming a doctor since high school. Now a senior in the Biology Department's Pre-Medical/Pre-Dental Program, he's making the Dean's List every quarter while completing multiple rigorous lab-based science classes. He is thankful for the financial assistance so that he can focus on preparing for medical school.
"Thank you for your confidence in me," he says. "I work hard to achieve my academic goals and I will make you proud."
Lorren aspires to become an ophthalmologist and hopes to conduct vision retainment research—an ambitious goal that might not have been possible without scholarship assistance.