Raphael Guillory, an Eastern Washington University psychology professor, EWU alumnus and former Eagle football player, passed away on Sunday, Nov. 29 after a battle with cancer. He leaves behind his wife, Gloria, and five children. He was 49.
Guillory received a bachelor's degree in sociology in 1994 at Eastern after playing and lettering in football in both '92 and '93. While on the team he earned Academic All-District VIII honors and, as a senior, was on the Big Sky Conference All-Academic team.
Guillory went on to earn both a master's degree in counseling psychology ('99) and a doctorate in education ('02) at Washington State University before returning to Eastern in 2002 as an assistant professor of counseling, educational and development psychology. As an EWU faculty member, he taught coursework in advanced educational psychology, psychology of human relations, developmental theories and applications, and grant-writing.
His colleagues and friends considered him a true friend to EWU, a caring person who advocated for tribal rights and justice. Guillory was widely published in his research area of American Indian education, and he delivered numerous scholarly presentations at national conferences on the subject.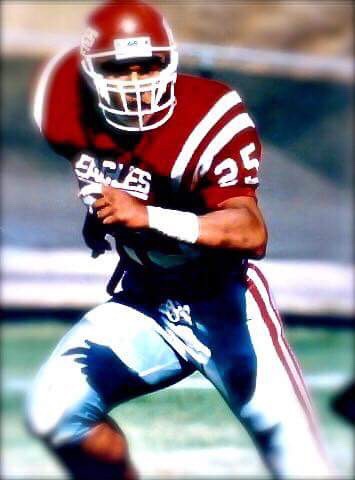 "There are no words to express the passing and loss of my dear beloved husband and the kids' father," wrote his wife on the family's GoFundMe page. "He fought the good fight, he finished the race, and he kept the faith."
In addition to his numerous academic and family achievements, Guillory lived his life with Eagle pride. He was the player representative for the 1992 football team when, in 2017, the squad was inducted into the Eastern Athletics Hall of Fame—on the 25th anniversary of the Eagles winning their first-ever Big Sky Conference football title.
"He was a GREAT man! He was my teammate and brother and I always admired him and how he carried himself," says current EWU Police Chief Jay Day, who was also a member of that '92 Hall of Fame team. "He never had a harsh word for anyone and was perpetually positive no matter the circumstances. You can't help but to smile when you think of him. The love he had for his wife and children as well as the rest of his family is something that we should all aspire to. Heaven gained an angel and the EWU academic and athletic community lost a great ambassador and example of what EWU can do for you."
Family members said Guillory never failed to be grateful for the outpouring of support he received during his illness "He was so appreciative," wrote Gloria Guillory, "of all of our extended family and friends, brothers and sisters in the Lord and fellow ministers, colleagues and students at EWU and NMSU, EWU Big Sky Championship and Hall of Fame football team members, Spokane Schools and athletic teams and organizations/coaches/players and their families, and all those who knew and loved him. Also for all of the doctors, nurses and staff who provided him care this past year—God bless you all.
He was always taken aback in tears at the love and support of so many, not realizing how many people had been touched or impacted by him and were so sincerely concerned for him and wanted to bless him and his family."
Guillory's family invites others to join them for a virtual a memorial service which will be streamed live on YouTube at 11 a.m. on Thursday, Dec. 3. A funeral is also being planned on the Nez Perce Indian Reservation in Lapwai, Idaho, where Guillory was raised. A GoFundMe page has been created to help support the family.