Dear EWU Community,
I am pleased to highlight the success of our EWU McNair students and share some of the great work we do together. In the following link, you will find the McNair Scholar Collection of Research Abstracts from 2019-2020.
Here you will find the culmination of intensive research conducted by our McNair Scholars with their EWU faculty mentors during their McNair research internships. Please take the time to read about the wonderful work of Faculty Mentors and McNair Scholars.

The high impact teaching and mentoring strategies provided by McNair and Faculty Mentors have transformed the lives of first-generation, low-income EWU students. A clear example of this life transformation is evident in Laura Zamudio-Orozco, who has returned from completing her PhD program at Florida International University to assist our McNair scholars in reaching their academic goals, as she applies to faculty positions in Math Education.
We are also celebrating the successful graduate school admissions for many of our McNair Scholars, such as Marcos Monteiro, a biology major, and Angelica Garcia-Macias, political science major.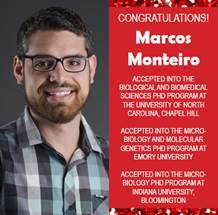 Please follow us through LinkedIn or Facebook for more updates.
Christina Torres Garcia, MBA, PhD
EWU Ronald E. McNair Scholar Program Director